Mother & Son Underwater Photoshoot: An Immersive Experience to Create Memories & Artworks | Noosa Family Photographer
A day of fun and connection for this mini family
It was a gloriously sunshiney day in Noosa when I welcomed Bridget and her son Baxter to the underwater studio. She's been a solo mum for all of Baxter's life, and they have a remarkably wonderful connection. He is a polite, funny and charming little guy—an absolute delight to spend time with, she has raised him well ☺️
Pool time was spent creating portraits to show their connection, as well as some portraits of them individually. Baxter looked super relaxed and happy in every single one of his underwater photos, this waterbaby made it look so easy!
Bridget's home in Brisbane is a Queenslander that she sympathetically renovated and beautifully decorated, it's a serene and stylish oasis in the city. I managed an invite to see the biggest artwork in situ, and it took my breath away—seriously, I gasped; scroll towards the end of this blog to see how gorgeous it looks on her wall.
I asked Bridget if I could feature her photoshoot on my blog, and she graciously answered all my questions…
You've raised Baxter on your own. How has it been as a solo parent?
"I have been asked this question a lot over the years and my go-to response is always that I haven't known anything different, so I have nothing to compare it to. However, there are definitely some additional challenges in raising a child on your own, but also some amazing benefits. For example, he and I can do whatever we like—we don't have to answer to anyone else (well, he can answer to me!). On the flipside of that, it's also sometimes an overwhelming responsibility. The questions you have as a parent as you raise a child can only be answered by me. There isn't that other person to bounce ideas off. But even on the toughest of days, I always give him a kiss goodnight as he sleeps and can't imagine what my life would have been like without him."
How would you describe Baxter?
"Gosh, there is so much to say about this one! He's very independent and social, yet he also has a very sensitive side. He will remark that he doesn't like being so sensitive as he feels things to deeply, so I remind him that it also means he has empathy and that the world needs a lot more people with that. When he first started talking, I wondered if I had a mini 80-year old—his take on everyday life often makes my friends and I smile! He sees the world just a little differently to most and has always spoken more like an adult than a child, which I absolutely love about him. He's also pretty funny and luckily for me, still very cuddly 😍"
How would you describe your relationship with him?
"Our relationship is incredibly special—especially as our family are all in New Zealand. It literally is just him and I. We're both very aware that we're each other's 'other person'. We have a closeness that both of us notice not every other parent and child has; especially if there are multiple siblings. It's not always rainbows and butterflies though. We've definitely had our challenges, but we try to get through them together, as quickly as possible. An argument between us really impacts both of our days, so we will reset as soon as we can if we need to. I also think the fact that I've always been so honest with him everything, means that he trusts me wholeheartedly—always the best foundation for any relationship."
What made you decide to have an underwater photoshoot? And why now?
"When I had Bax I really wasn't in a great financial position. When I look back on that time, I do so with both tears and pride. The last time we had professional photos was when he was about 3 years old and since then, almost every pic has been a selfie with my arm outstretched and always of our upper half only. Baxter will officially become a teenager next year, so I wanted to capture this moment in time. While he is still a boy, but on his way to being a young man. And I'm so grateful that I am in a position financially to be able to do so.
"I had seen the pictures you had taken of one of my friends' friends—they had been going through health battles—and I was mesmerised by them. So, I decided to take an alternative approach to the usual family portraits and thought that it was a great way to get Baxter involved, in a way that was a whole experience and a memory that he would have of us forever. The fact that we had that day recorded in print, really was an amazing bonus. For us, the experience on the day was so special."
How did you feel in the lead up to your photoshoot? And did you have any worries?
"Honestly at the time, we were so busy at home. I was working a lot; Baxter had some challenges that we were working through and I had ended a relationship. I felt a bit overwhelmed in the lead up with the pre-work that was provided. And I was probably a bit tricky to work with, as I was pretty disorganised. But I knew what I wanted and I also knew that we'd get amazing pics simply by trusting in you and your process."
What is your memory of the photoshoot day itself?
"We had the BEST day! We were up early as we travelled up from Brisbane (McDonalds for breakfast not recommended when you remember you have to be in a bikini in the pool!!!) and arrived around 9am I think. Both of us were really touched with the little personalised 'welcome' sign out the front. And everything just went so smoothly from there. Both of us were excited, but felt really relaxed as well. The vibe in your house is so welcoming and calming. It was great to have someone there to do makeup (who was great btw) and help with the shoot. It really felt like every little detail had been thought of. Baxter and I often talk about that day and keep having little flashbacks. Even though there were two other people there, it really felt like it was just him and I spending a fun morning in the pool together, creating magical memories—that now we get to keep in print."
What did Baxter think of the whole experience?
"He absolutely loved it! I was a bit worried that he would lose concentration and get sick of it, but he didn't at all. He had an absolute ball and has told all his friends about it! He loves any time that he gets to spend just hanging out with me, so it was the perfect experience!"

How did the final photos compare to your expectations?
"Oh wow—I mean I had seen the work you had done for others, but there's nothing quite like seeing it for yourself. I was in tears from the moment we had the first viewing and the tears struck again when my large pieces arrived at home. They captured Baxter's personality and our relationship so perfectly. The way the final viewing was set up, made it as easy as it possibly could be, to choose which ones to print. And they have not disappointed."
What does it mean to you to have professional photos of you and Baxter?
"One of our biggest mutual fears is that something will happen to the other person and they will no longer be in this world—fingers crossed that doesn't happen for many, many years. But knowing there are these photos, that are such a beautiful reminder of the relationship that we share, is comforting. I've also looked at the ones of just myself and imagine being able to look back on them when I'm old and grey and remember that I was once a young (ish) woman."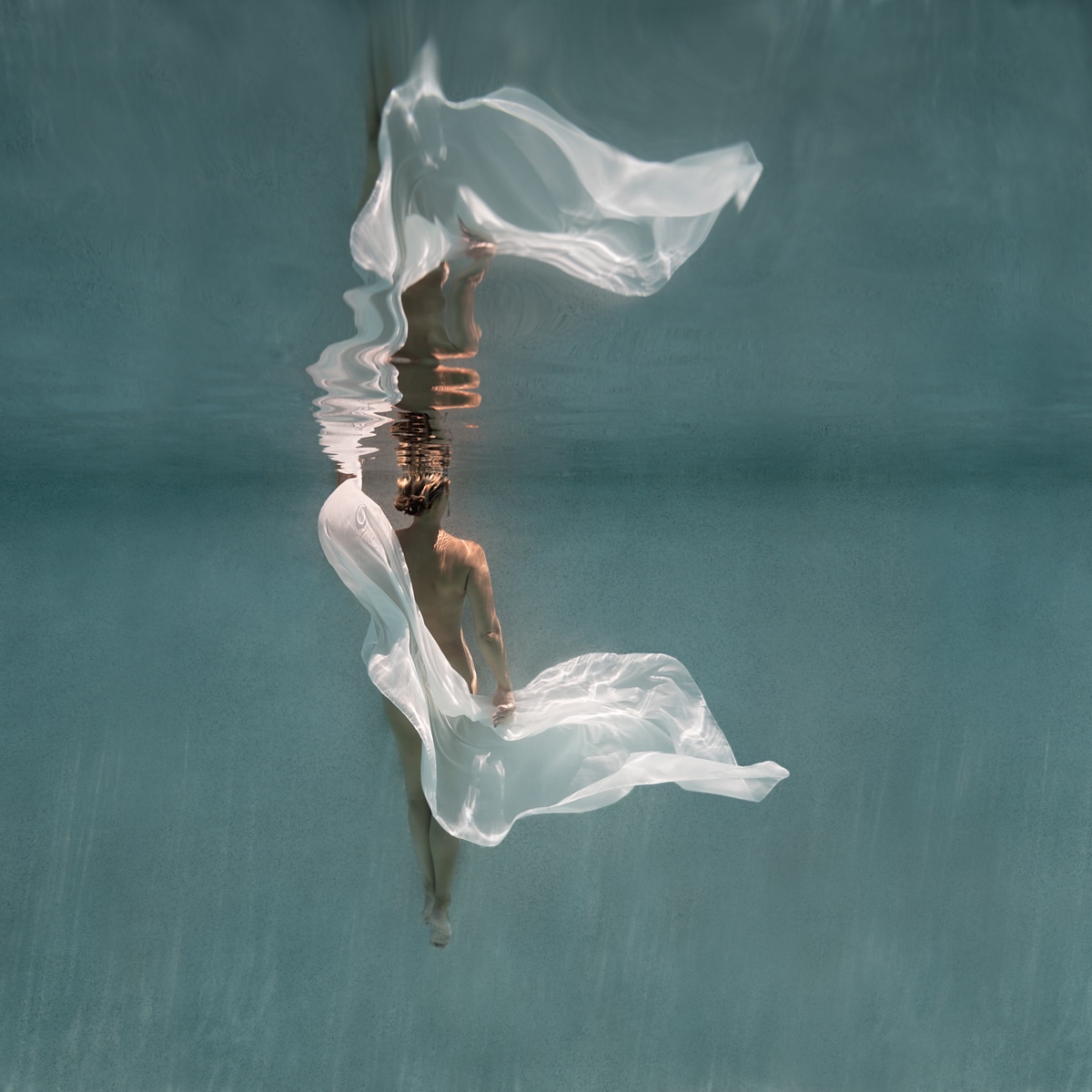 You're someone who values art and design. How does it feel to be the subject/muse of an art piece in your own home?
"Oh gosh, I honestly struggled with this one when they first arrived. How could I possibly put up such a large picture of myself in my living room. Would people think I was being narcissistic. I also wondered how Baxter would feel with his friends coming around, as I have no clothes on! And I also wondered whether I was okay with that myself. But honestly, I look at the photo hanging on the wall now and the image is just so beautiful that I don't even notice that it's actually me. It just looks like a piece of art. The depth, the colours—aaggghhhh, I just love it and it still gives me goosebumps! And I have never seen a photo printed on canvas that actually looks like a painting—the quality is incredible."


What would you like to tell other women or mothers who are thinking about booking an underwater photoshoot?
"Simple—do it, you absolutely will NOT regret it. The experience. The memories. The moments. The photos."
Is there anything else you'd like to add to this blog post?
"This has been such a magical experience. I was obviously expecting to get some lovely photos from it. But what I didn't expect, was that it really has been a fully immersive experience that I got to share with the most special person in my world. Thank you, Liz—your creativity, your hospitality and your talents are so greatly appreciated."
---
Find out more about the underwater photoshoot experience…
Got something you're itching to ask me about underwater photography? Let me know!