Emotive Underwater Maternity Photos for Sydney Couple
Connection, emotion, love: a Noosa babymoon photoshoot experience
Mei and Ben met each other 18 years ago on the Sunshine Coast when they both represented the Cook Islands in the Youth Touch Football World Cup. They had tried to get pregnant for some time, facing medical and personal challenges that would make this this baby girl a very special little angel.
Based in Sydney, they journeyed back to Queensland for a babymoon in Noosa and a memorable maternity photoshoot designed just for them. The brief: create portraits that show connection, emotion and love.
From the many gorgeous photos made on the day, Mei and Ben chose a leather portrait box for a collection of archival matted prints, and a classic framed wall art to display in baby girl's nursery. These are portraits that celebrate love, and memories to be relived for decades to come.
Here's the story of their underwater photoshoot, in Mei's words…
—Liz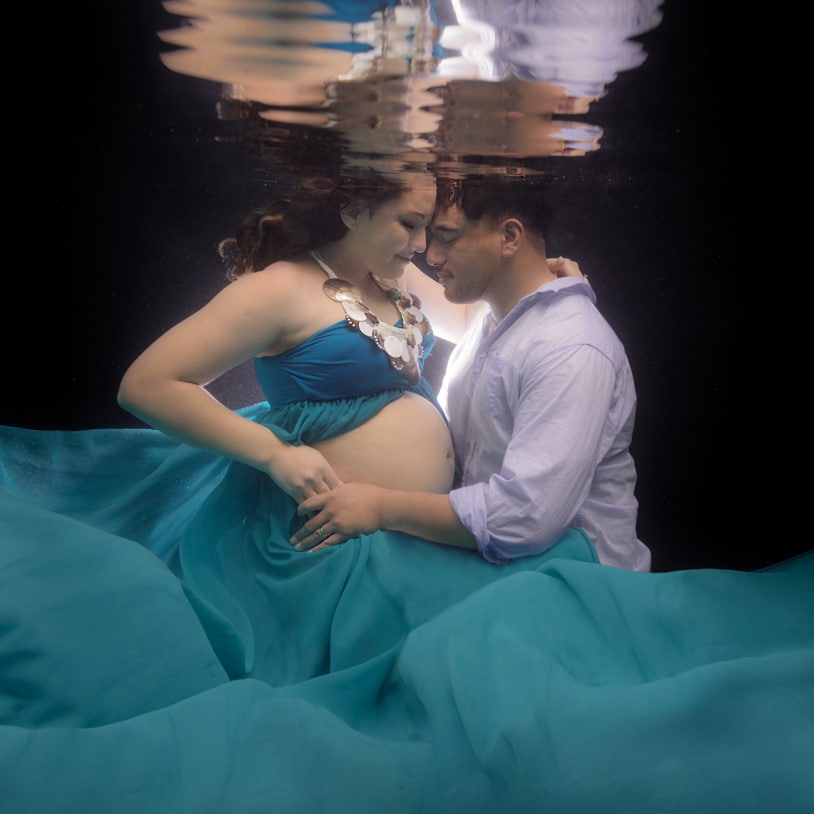 Ben and I are from Sydney, and I was adamant to have Liz photograph our maternity portraits. I had researched maternity photoshoots for a long time trying to find the right one. I stumbled across "Liz Harlin – Noosa underwater photography" and thought to myself that would be fun. I had a look on her website and learned that she has won numerous awards for her photography. I didn't want a maternity photoshoot that was the "norm"… the norm is still beautiful, but once I had seen Liz Harlin's underwater work I knew that's what I wanted instead.
It was my idea to get maternity photos done, and I didn't actually tell Ben what we were doing until a couple of weeks before our trip from Sydney to Noosa. By then I had already booked our flights and accommodation, so there was no turning back for him.

In the lead up to the photoshoot I was more excited than anything. The only concern I had was Ben: he wasn't too impressed with the idea of underwater photography. He doesn't like having his photo taken as it is, so an underwater photoshoot was definitely out of his comfort zone.

However, the entire experience was the best.
A fun part of the day was when Ben joined me in the pool. I had thought he would have been a bit shy and not taken on the experience, but when he snapped his first few photos I knew I had to step up my game. He even coached me in the water. We had so many laughs that day. Liz made the entire experience so relaxing and fun.

One core memory of our photoshoot was when we first arrived and met Liz. She explained how our day would play out and encouraged us to leave the outside world for the day so we could just focus on us, our 18 years together, our little angel on the way and the struggles it took to get to this point. That was really emotional, a few tears were shed, and that moment definitely painted the picture for the rest of the day.
While I didn't know exactly what to expect, I knew I wanted maternity photos beautiful enough to still inspire awe in 20 or 30 years from now. I did have some images in my head which I thought I wanted to mirror exactly… but once we were in the water and in the moment, excitement just took over. Liz is extremely talented in capturing those moments that were unique to us, and the end results definitely exceeded all expectations.

When I look at our finished maternity artwork I feel LOVE! So much love and emotion. For my husband, for our angel, and for the life we've had so far.
For anyone who is considering underwater maternity photos, I'd tell them that Noosa is the place to be! I rave on about Liz Harlin all the time, and I've shared our Noosa story with so many friends… but storytelling just doesn't do justice to experiencing it for yourself.

Hand on heart this was the most precious, emotional and amazing experience we've ever had. Thank you so much Liz for having us. We'll cherish this moment for the rest of our lives.

—Mei George
---
Find out more about the underwater maternity photoshoot experience…
Want to ask me something about the underwater maternity photoshoot?